Washington's exhibit  was one of the most unique designs of all the states

buildings, showcasing its abundant supply of  lumber  resources. It stood opposite the United States Fisheries building.

The building was built entirely of wood, the outside of yellow pine, donated to the state by the Northwest Lumber Manufacturers' Association. The building stood six stories high, towering 114 feet to the base of the flag staff, which rose 50 feet higher. Octagonal in structure,  eight gigantic diagonal timbers slanted upwards from the ground, like a teepee, and met at the observatory line. All the floors were  supported by those  diagonal timbers. The building's  measurements were  77 by 114 feet, and cost 18,823.10 dollars.

Inside, a  staircase of native marble was a unique feature, while  the interior was  finished with the finer grained woods produced by the state.

Over 400 paintings and photographs were shown in the state building

In the Palace of Horticulture, the state won the grand prize, for "collective exhibit of fruits."  Over 1,000 crates of apples were shipped in cold storage to the Fair.

In the Agricultural Building, Washington was awarded grand prize on "collection of cereals, forage grasses, and miscellaneous vegetables;" grand prize on "best one-farm exhibit,"  and many gold medals."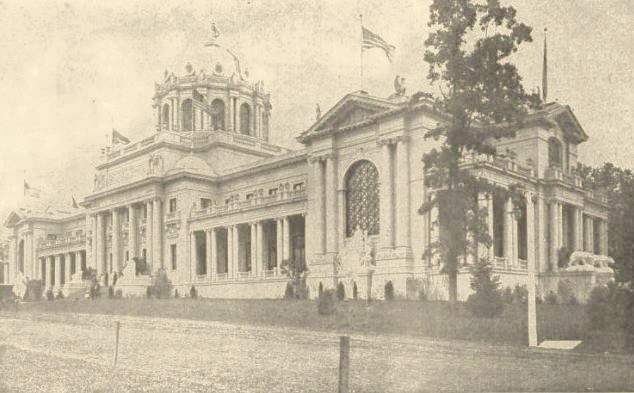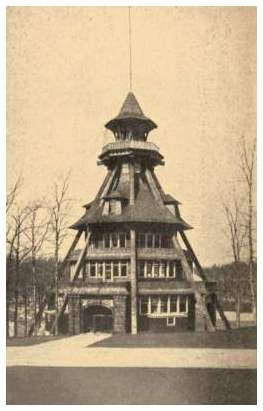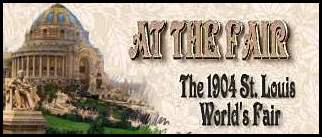 Lee  Gaskins'  AT THE FAIR  The 1904 St. Louis World's   Fair 

                   Web  Design and Art/Illustration   copyrighted  2008

Please Click on

State Building That You Want to See.  Not Every Exhibit is Listed.