Sweden's entry was a typical  Swedish country home  and carriage house of the sixteenth century. It was  brought to the World's Fair in sections and reconstructed to represent King Oscar's Government at the Exposition. It was  surrounded by a characteristic Swedish garden. All of the material used in the building, as well as the furnishings  came from the  forests of Sweden.  The cost of the pavilion was 17,018 dollars. It was dedicated on a Tuesday morning, on May 9th. It was designed by Ferdinand Boberg.

Inside,  visitors could see a bust of the King of Sweden. The walls were decorated with souvenirs of Swedish history and romance. There were samples

of potteries from the Gustafsberg pottery, a library of Swedish authors, and pictures of native landscapes. The offices of the Royal Swedish Commission were in one of the wing's  of the building.

After the Fair closed, the building was moved to Lindsborg, Kansas by the U.S. Minister to Sweden, W. W. Thomas Jr. in 1904, where it became the Bethany College Art Department.   Later, it was  relocated to the McPherson County Old Mill Museum by the Smoky Valley Historical Association.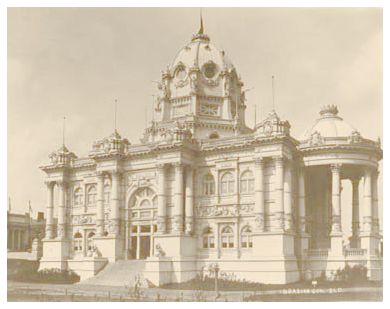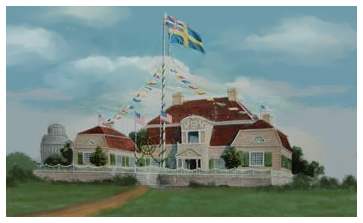 A heavily modified postcard by me of the Swedish Pavilion.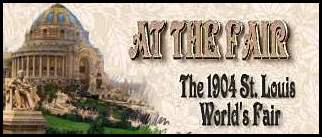 Lee  Gaskins'   AT THE FAIR  The 1904 St. Louis World's   Fair 

                   Web  Design and Art/Illustration   copyrighted  2008