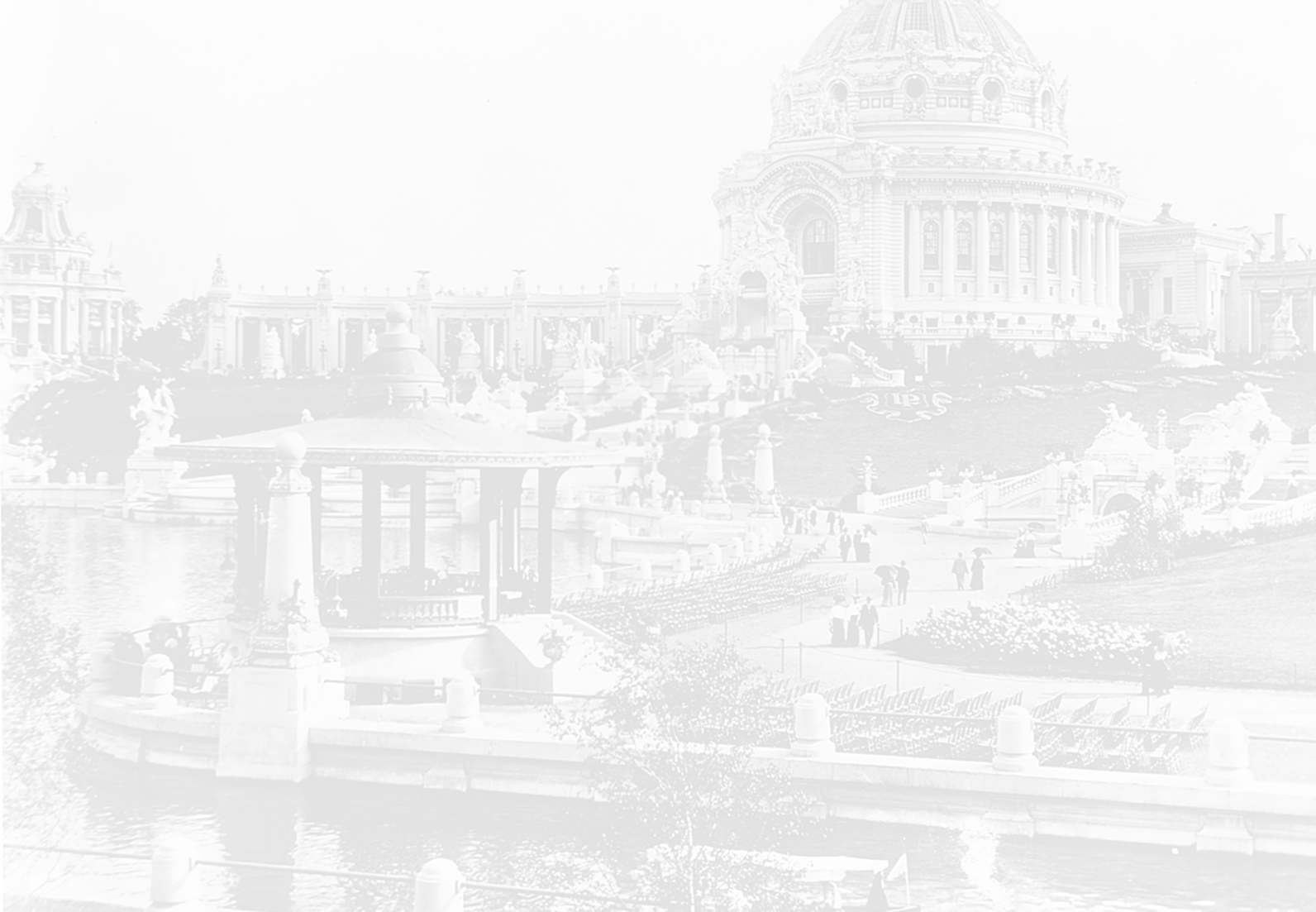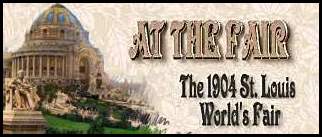 Lee  Gaskins'   AT THE FAIR  The 1904 St. Louis World's   Fair 

                   Web  Design and Art/Illustration   copyrighted  2008

   Like a lot of people my original interest in the 1904 St. Louis World's Fair began with the movie Meet Me in St. Louis.  Seeing this movie definitely peaked my interest in the fair.  And after doing some searches on the fair I was able to find one particular site (Terry's 1904 World Fair page – tlaupp.com) that had great pictures of the grounds.  This only peaked my interest more.

    I would have to say I enjoyed the incredible structures that were built for the fair.  The size and grandeur of each of the palaces was spectacular.  Being from Dallas and growing up around the State Fair of Texas grounds I came to truly appreciate what was without a doubt the greatest World's Fair facility built.

    The Fair continues to interest me for a number of reasons.  I have always been a person who enjoys our past.  From music (Ella Fitzgerald, Mel Torme, Frank Sinatra,) to movies (Turner Classic Movies, and the old American Classics with Bob Dorian as movie host) I have always had an interest in these past eras.  Movies that I enjoy most seem to always be in the era of the '04 Fair (Hello Dolly, The Music Man, Meet Me In St. Louis of course).

   In closing since finding your website regarding the Fair,  I have now began to learn even more detail about the 1904 Fair and what is even better, all this info. is at one site.  The size and scope of this Fair is not to be believed.  We could never achieve this again.  There is some sadness that most all of this is now gone.  But I can imagine using the "staff-plaster" for the main building materials kept the cost down tremendously.   But still 50 million dollars in 1904 is quite a sum of money, but it seems with gate receipts and profit on food the city might have broken even.  The fairs in Chicago -1893, Buffalo – 1900, San Francisco and so on were great in their own right, but in my opinion, they did not in  any way equal the St. Louis 1904 Fair.  



Mark Bowling


Texas
  As the 20th Century began, the Victorian-era World's Fairs played an important part in helping the development of America.  Largely

forgotten except for tragedies like President McKinley's assassination in 1901 World's Fair in Buffalo, they brought together the products, cultures, science, and art from dozens of countries and states--and even put foreign people on exhibit!  There were displays of the latest innovations in agriculture, exhibits from new and emerging sciences, objects to buy from around the world, and large concession areas to provide visitors with entertainment, and even take them on fanciful "rides".

               The 1904 St. Louis World's Fair was the apex of the Victorian World's Fairs.  At the dawn of a new century, and the beginning of

the age of electricity and flight, it helped usher in the 20th Century and spread knowledge about the world to every visitor.  Built to a scale that was never equaled before or since, it only lasted for 7 months. 

               But to many St. Louisans and fans of the Fair, those 7 months are not to be forgotten.  Those of us who are dedicated to promoting

the interest in these nearly-forgotten events of a century ago enjoy many aspects of the fair, and the 1904 World's Fair Society in St. Louis is

dedicated to this purpose.

               Lee has put together the most comprehensive website about the Louisiana Purchase Exposition available anywhere on the web.  It's full of facts and pictures about every aspect of the Fair that he can find!  And, his original Fair artwork makes the scenes come alive in a new way:  his pictures look as though someone took a color picture just yesterday!  

               Bravo!

               Mike Truax

               1904 World's Fair Society

- - - - - - - - - - - - - - - - - -