THE 1904  WORLD'S  FAIR  SOCIETY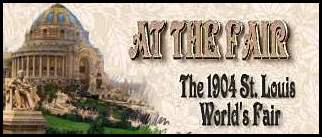 The 1904 World's Fair Society is dedicated to "preserving the memory" and memorabilia of the Louisiana Purchase Exposition.

They  are a  nationwide diverse  group of people passionate  about  the broad  aspects  of  the 1904  Louisiana Exposition. The Society holds meetings   every month in St. Louis, Missouri.  Some of  them  collect memorabilia, some members are interested in digging up the facts and setting the record straight, while others  are have an interest in finding the bits and pieces of the Fair that still exist, and some   Society members even have  family connections to the  Fair.  All you  need is  a  sense of wonder about  the grandest  Exposition ever created to join  the 300  plus (and  growing),  Society members. 

The 1904 WFS  has  published a video documentary of Fair attendees, printed a book, produced several post cards, minted a commemorative silver medal for the Fair's centennial, and made a large donation to the renovation of the St. Louis Zoo's Bird Cage, (originally built for the 1904 World's Fair).

The Society  has  also discovered and purchased the masterworks to the 1904 Fair's Floral Clock (which is currently on display at the Missouri History Museum);  a large-scale project   is to  recreate the giant floral clock  at a permanent location for the exhibit.

Monthly meetings feature programs covering a wide range of Fair-related topics, such as music, food, fashions, exhibits, memorabilia displays, and even 3-D slide shows.  Visitors are always welcome at their monthly meetings.    Every December 1st, the Society has a formal Closing Day Observance Banquet to commemorate the closing day of the Fair.

Besides  meetings, the   Society has provided numerous  presentations  (and even tours),  about   the  1904 World's Fair.  They  can  easily handle  any  type of Fair   presentation  for your organization or event. Their topics can be tailored for your membership, and can also arrange for 'special' presentations if requested--including 'The Pike' or 'Food at the Fair'. Honorariums may be requested from non-educational groups or organizations.

The Society  is  always  glad to  answer  any  question(s)  about the Fair, (or refer you to an organization that may provide an answer for you).

Lee  Gaskins'  MEET ME AT THE FAIR  The 1904 St. Louis World's   Fair 

                   Web  Design and Art/Illustration   copyrighted  2008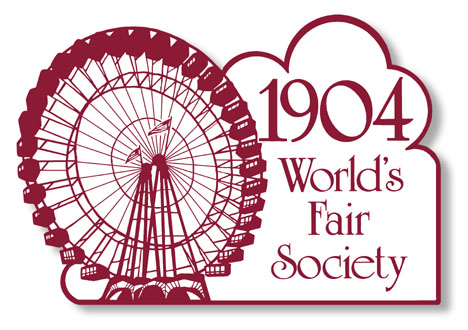 Produced by  the 1904 World's Fair  Society, The World's Fair Bulletin is a professionally produced newsletter, mailed monthly.

Each issue contains information on their upcoming meetings and articles of interest, as well as photos, stories, essays,  history,  and interesting information  about the grandest Fair  ever created.

This publication alone  is  well  worth  the small  annual  dues  that  the Society  requires  to operate.

Their  members are encouraged to send in articles and questions.

Membership is based on the calendar year.

To find more information about  the 1904 World's Fair  Society, click on  the above  link. Join  today!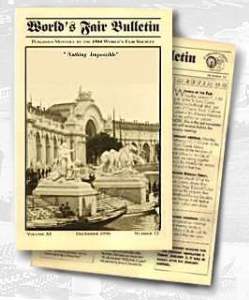 The  World's Fair Bulletin