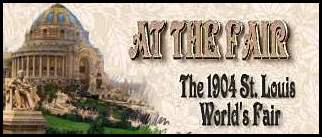 Lee  Gaskins'  AT THE FAIR  The 1904 St. Louis World's   Fair 

                   Web  Design and Art/Illustration   copyrighted  2008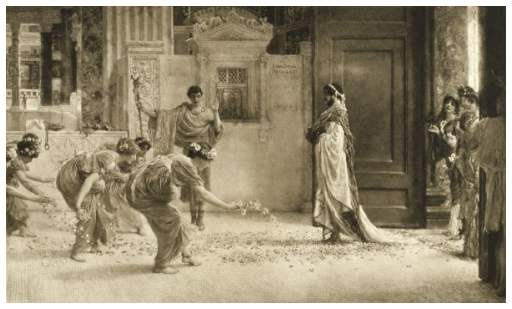 Sir Lawrence Alma-Tadema, (born- Laurens Tadema),   was arguably the most  successful  of  the Victorian   painters. Born on  January 8, 1836, in Dronrijp, the Netherlands.-he  trained at the Academy of Antwerp, Belgium, later  settling in England in 1870 and spent the rest of his life there. A neo-classical painter, he became famous for his dazzling and detailed  depictions of the Roman Empire.

In 1852 he entered The Royal Academy of Antwerp where he studied early Dutch and Flemish art, under Egide Charles Gustave Wappers. Before leaving school,  he  assisted painter and professor Louis (Lodewijk) Jan de Taeye.

On September 24, 1863   he  married Marie-Pauline Gressin, the daughter of Eugene

Gressin, a French journalist of royal descent living near Brussels. Alma-Tadema and his wife spent their honeymoon in Florence, Rome, Naples and Pompeii, beginning  a . strong  interest in depicting the life of ancient Greece and Rome; especially the latter since he found new inspiration in the ruins of Pompeii, which fascinated him and would inspire much of his work in the coming decades. Marie-Pauline died 6 years  later of small pox.

With his small daughters and sister Artje, Alma-Tadema  moved to London in September 1870 where he continued with much success. Alma-Tadema became one of the most famous and highly paid artists of his time.

In his personal life, Alma-Tadema was an extrovert and had a remarkably warm personality. He was an excellent businessman, and one of the wealthiest artists of the nineteenth century.

Alma-Tadema's output decreased with time, due in part to ill health, but he continued to exhibit throughout the 1880s and into the next decade, receiving a plentiful amount of accolades including the  Great Gold Medal at the International Fine Arts Exposition in Brussels of 1897. In 1899 he was Knighted in England.

On 15 August 1909 Alma-Tadema's second wife, Laura, died at the age of fifty-seven. Alma Tadema died  on June 28, 1912 at the age of seventy-six. He was buried in a crypt in St. Paul's cathedral in London.

Alma-Tadema had three works exhibited at  the 1904 World's Fair- `The Coliseum,'  `At the Shrine of Venus,'  and the above picture- 'Caracalla: AD 211.'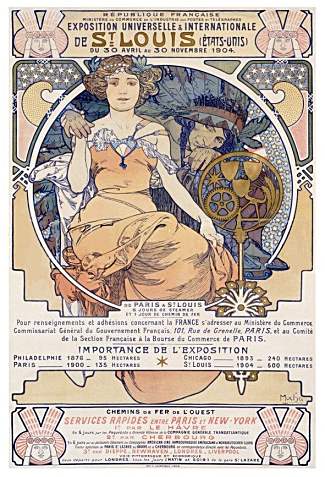 Alfonse Maria Mucha, was born in the town of Ivančice, Moravia (Czech Republic). He was an avid singer, but   drawing had been his first love since childhood. He worked at theatrical painting jobs in Moravia,  moved to Vienna in 1879 to work for a leading Viennese theatrical design company, while informally continuing his artistic education.

Realizing that living people created the art he admired in churches, Mucha became inspired to paint.

Mucha moved to Paris in 1887, and continued his studies at Académie Julian and Academie Colarossi while also producing magazine and advertising illustrations.

Mucha married Maruška (Marie/Maria) Chytilová on June 10, 1906, in Prague. The couple visited the U.S. from 1906 to 1910; their daughter, Jaroslava, was born in New York City.

Mucha produced a flurry of paintings, posters, advertisements, and book illustrations, as well as designs for jewellery, carpets, wallpaper, and theatre sets in what came to be known as the Art Nouveau style. Mucha's works frequently featured beautiful healthy young women, barefoot in flowing vaguely Neoclassical looking robes, often surrounded by lush flowers which sometimes formed haloes behind the women's heads. In contrast with contemporary poster makers he used paler colors.  He became also active in designing jewelry.   Mucha exhibited his  paintings at The Art Institute of Chicago in 1906  and a had a show of  five mural paintings illustrating the history of the Slavs at The Art Institute of Chicago in 1921.

The rising tide of fascism in the late 1930s led to Mucha's work being denounced in the press as 'reactionary'. When German troops marched into Czechoslovakia in the spring of 1939, Mucha was among the first people to be arrested by the Gestapo.

During the course of the interrogation the aging artist fell ill with pneumonia; he died in Prague on July 14 of a lung infection.

Mucha's style experienced an enthusiastic revival in the 1960s, particularly in psychedelic posters.

Mucha's art Nouveau illustration- the quintessential poster  for the 1904 Worlds Fair.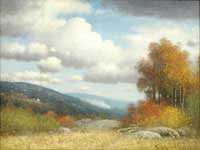 Frank Russell Green,  a New York artist, was born in 1856. He  studied at the Academie Julien and  was a member of the National Academy of Design, New York Watercolor Society, Salmagundi Club, and American Watercolor Society.  His  work  was exhibited at the Paris Salon, 1893 Columbian Exhibition, and 1904 World's Fair.  Green  died in 1940.

`Early fall landscape with distant hills,'  is an oil on canvas, 12" x 16."


Frederick Samuel Dellenbaugh,  was an explorer-painter-architect. Born on  September 13, 1853, the  Ohio native   was hired as the artist to accompany Major John Wesley Powell's second Colorado River expedition, a three-year project, at the age of  seventeen. 

Dellenbaugh returned there in 1875 when Powell was head of the U.S. Geological Survey. Later, he made additional  trips west, including New Mexico, Arizona, and California.

In 1882 at the Académie Julian in Paris he studied under Jules-Joseph Lefebvre and  Carolus-Duran. He was taught to  paint realistically, but  was encouraged to personalize  and interpretatie nature. Dellenbaugh actively exhibited his works a the National Academy of Design (1880-98), the Brooklyn Art Association (1881 and 1886), and  the Paris Salons of 1883 and 1884. He also  showed several works at the World's Columbian Exposition

This  oil painting of Zion NAtional Park was created in 1903 and exhibited at the  1904 World's Fair.

Dellenbaugh died in New York City on January 29,  1935.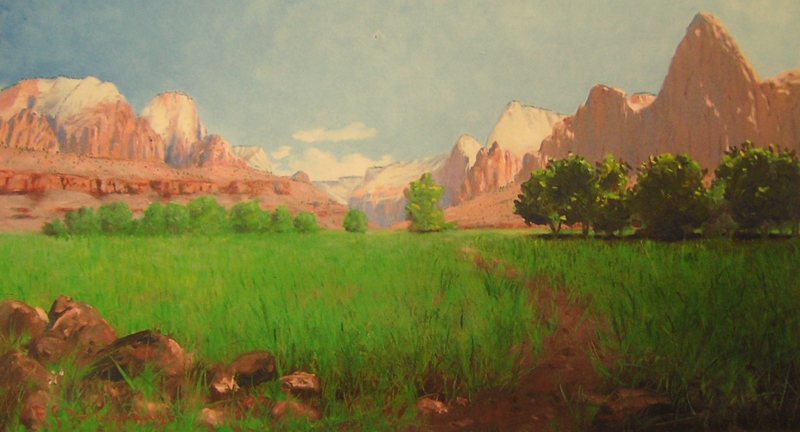 Elizabeth Frueh,  created  this tapestry in 1887. This Elizabeth Frueh needlework  depicts the Virgin Mary handing out bread outside a church.

This needlepoint picture was donated by the husband of the artist's granddaughter. The family has said that this needlepoint won a prize at the 1904 World's Fair. This work recalls an era when some St. Louis children were educated in German, in this case at the old St. Mary's school in South St. Louis near the Lemp Brewery.

The image  is 24.5" x 19.25"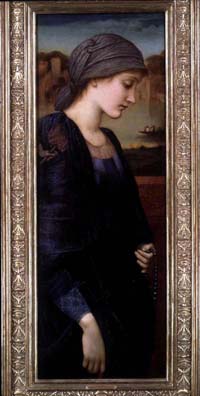 Sir Edward Coley Burne-Jones,  1st Baronet,   was an English artist and designer closely associated with the later phase of the Pre-Raphaelite movement. He  was  involved in the rejuvenation of the tradition of stained glass art in England.

Entitled- Flamma Vestalis, and painted in  1886, on oil on canvas 107.9 x 37.4 cm. The image to the left now  resides in the London Collection of Lord Lloyd-Webber. The Pre-Raphellite/Neoclassical artists were  very popular at the 1904 Fair. 

Jones was born in Birmingham, the son of a Welshman frame-maker, Edward Richard Jones. Burne-Jones had intended to become a church minister, but under (mentor), Rossetti's influence both he  decided to  pursue a career in art.

He married Georgiana "Georgie" MacDonald (who was also training to be a painter in 1860.

Burne-Jones was elected an associate of the Society of Painters in Water-Colours in 1864, and exhibited many of his  works. In  1870, he  resigned his membership, after the society  suggested  to  modify his painting-  `Phyllis and Demophoön' which  suggestion of female sexual assertiveness offended Victorian sensibilities. In  May 1877, Jones had a widely successful exhibit in the Grosvenor Gallery, which began a grand period of shows and commissions. Jones was elected an Associate of the Royal Academy in 1885.

Though criticized for not painting in a ultra-realistic style, Jones's work  and design showcase romantic temper  and dreams of the Pre-Raphaelite. His figures were  attractive and his aesthetically pleasing compositions and use of  pure and variegated color were his noted strengths.

In 1881 Burne-Jones received an honorary degree from Oxford, and was made an Honorary Fellow in 1882. Jones began hyphenating his name  to  stand out  from the many  Jones.

On  May 3rd,  1894, Jones was formally named  a baronet of Rottingdean, in the county of Sussex, and of the Grange, in the parish of Fulham, in the county of London in the baronetage of the United Kingdom.

Burne-Jones exerted a considerable influence on British painting.

He died on  June 17,  1898 after a losing bout with  influenza.

Sir Philip Burne-Jones, 2nd Baronet (b. 1861, d. 1926) was Edward's only  surviving son (Jones' second son died shortly after birth),   who great to  adulthood (and later fame).  He became a well-known painter in his own right, producing more than 60 paintings, including portraits, landscapes, and poetic fantasies. 

Edward Burn-Jones' work has had several renaissances of  admiration throughout the years.  His stained glass  works include the windows of St Martin's Church in Brampton, Cumbria, the church designed by Philip Webb, All Saints, Jesus Lane, Cambridge and in Christ Church College, Oxford.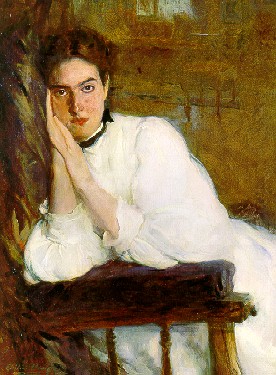 Cecilia Beaux,  was considered by many to be the finest woman painters  as early as 1902. 

She was  born in Philadelphia, as was raised by  her  grandmother and aunt after her mother died ( and her father moving to France).  Cecilia studied drawing under Catherine Drinker, an historical and religious painter. She also  studied under Adolf Van der Whalen and at the  Pennsylvania Academy of the Fine Arts  under Thomas Eakins, and semi-privately  with William Sartain. In 1888 she traveled to Paris to study at the Académie Julian.

At eighteen, Beaux was appointed drawing teacher at Miss Sanford's School, taking over Drinker's post.

In 1895, she became the first full-time woman faculty member at the Pennsylvania Academy of the Fine Arts.

Beaux exhibited her work and garnered prizes in museum exhibitions from Philadelphia and  New York to Paris. She was awarded full membership in the male-dominated National Academy. She painted a portrait of Mrs. Theodore Roosevelt and her daughter in the White House, in 1901-1902.

The painting to  the right- `The Dreamer,' gained a gold medal at the 1904 World's Fair.  The piece has an obvious homage stylistically to  John Singer Sargent, whom many  considered her, his  equal.  "A perfect technique in anything," she stated in an interview, "means that there has been no break in continuity between the conception and the act of performance." She summed up her driving work ethic, "I can say this: When I attempt anything, I have a passionate determination to overcome every obstacle…And I do my own work with a refusal to accept defeat that might almost be called painful."

In 1933 Beaux received from First Lady Eleanor Roosevelt a gold medal from the women's fraternal organization Chi Omega, an award that honored American women for cultural contributions on the international stage.

Beaux stopped painting in the mid-1920s, published her popular autobiography "Background with Figures" in 1930, and died at Green Alley at the age of eighty-seven, and was buried in Bala-Cynwyd, Pennsylvania.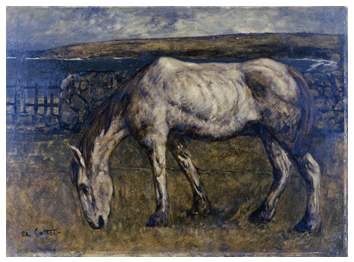 Charles Cottet,    was born in Le Puy, Auvergne, in the southern France.

He  studied under Puvis de Chavannes, a decorative artist, in Paris in 1882, but later turned to  drawing nature.

He led a school of painters known as the Bande noire or Nubians group (for the somber palette they used, in contrast to the brighter post-impressionist paintings), and was friends with such artists as Auguste Rodin.

In 1892, Cottet visited Bretagne in the north western part of France and  fell in love with the region and started to draw the lives of people there in a realistic way.

The painting  to the left- "Old Horse" was drawn in Bretagne and was exhibited in the French  section of the 1904 World's Fair.  The work is now displayed at the  National Museum of Western Art,   Japan's premier Museum that  specializes in  Western Art.

In 1890, he helped form the  Salon de la Societe National des Beaux-Arts.  Cottet  died in Paris in 1925.


There are eight pages  for this  section,  navigation is at the top and bottom of this  page.